Frequently Asked Questions
How is my order shipped?

Cameras are Shipped FedEx with Tracking
We ship out orders within 2 business days. ("Ship out" means the day your order leaves our wherehouse, which is NOT the day you will receive your order.) We will send you an online tracking number from FedEx after your order has been shipped. If your purchased rush shipping your order will ship out the next business day.

USA and Puerto Rico FedEx Shipping Information
FedEx Ground Shipping on a typical order many times runs between $8.00 and $18.00 depending on your location and the weight of your order. Puerto Rico is slightly higher.

CANADIAN ORDERS Shipped UPS
Canadian orders are actually shipped UPS even though the checkout reads FedEx.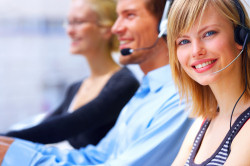 You may contact us concerning your order or placing an order.
(No Phone Solicitors or Spam Mail Please)


Email Us at





Why do I need wedding cameras?
It is a great way for your guests to get involved in your wedding. They create memories for a lifetime on your special day. Your guests may catch great photo opportunities that your photographer may miss.


Do they all come with table tent cards? What do the table tent instruction cards say?
Yes, each camera is individually wrapped with a table tent instruction card.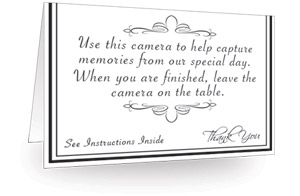 How can I pay for my order?
We accept Visa, Mastercard, Discover, and American Express.
You may also pay through PayPal if you have an account with them. We do not however recommend using PayPal unless you have experience in using them. The sign up process is more difficult than just using a credit card.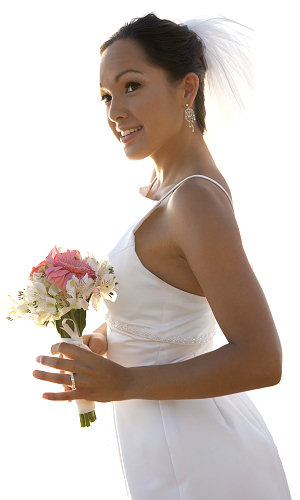 Can I get a few of each color camera?
Yes, you can mix and match different colored cameras on our order form. Our recommendation is to get a few silver cameras for the bachelor party and a few pink or lavendar cameras for the bachelorette party and wedding shower.


How long do they last if I buy them early?
This is fresh film with around a 12 month expire date.


Is there a minimum order quanity?
No, order as many as you like.


Are they easy to use?
Easy point and shoot pictures. Plus, each camera is individually wrapped with a table tent instruction card.


RETURN and EXCHANGE POLICY
Exchanges: Defective products will be exchanged at no charge within 14 days. If there was a mistake on your order please contact us right away, so we may assist you in an exchange. We will do our best to make your purchase satisfactory.

Return Authorization: You must first contact us for a Return Authorization Number. Items returned without a Return Authorization Number will be sent back to you with no refund offered and the cost of return shipping charged to you.

Items returned within 14 days will receive a partial refund, if it is returned in like new condition with no damage to the packaging. There is a 20% restocking fee and you will not be refunded on shipping and handling charges. If the item shows wear, packaging is damaged, or the product and packaging is not in like new condition, the item will be sent back to you with no refund offered and the cost of return shipping charged to you. There are absolutely no returns offered after 14 days.

Limitation of liability: This product will be replaced if defective in manufacture or packaging. Except for such replacement, this product is sold without warranty or liability even though defect, damage, or loss is caused by negligence or other fault. No warranties are expressed or implied due to the sensitive nature of film and cameras. Replacement of the product is the only remedy for a defective product.


What if I don't see the answer to my question?
Email Us at mail@weddingscenter.com, and we will do our best to contact you back within one business day.