Whether you are planning an office party, Christmas party, Sweet 16 party, wedding reception or other event modern technology such as the Internet and cell phones have made planning much easier from shopping for wedding invitations, to locating a local bakery or catering service in your area that you never even knew about, or even finding that one perfect decoration for your reception or gathering that you weren't even looking for. Modern technology and internet also saves a lot of time, headaches and driving around just hoping to find what you are looking for at your local stores and boutiques.


Speaking of modern technology, here at WeddingsCenter.com our goal is to also make your special day more memorable with our gorgeous digital cameras. Of course your photographer is going to take all of the main special pictures of the wedding and the bridal party, and at the reception of your first dance together as husband and wife, and cutting and sharing your wedding cake.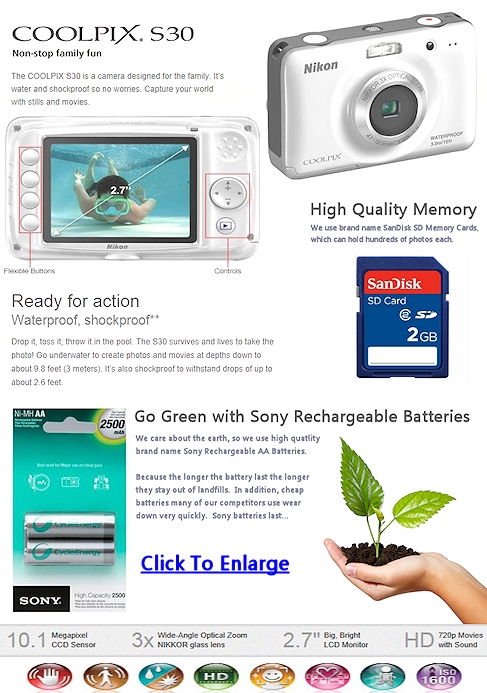 The thing about your photographer is it is impossible for him or her to be everywhere, however with our rentable cameras which are splash and shock proof your guests can help you catch memorable moments you may have missed such as Uncle Dave doing the chicken dance, or even of each other talking and laughing together that you were too busy to catch. Another great feature of our cameras is that they have a 2.7" LCD screen so they can check the photo immediately to make sure everyone was not blinking or accidentally making a silly expression. To see more of the description and features of these elegant cameras, we have a full layout on our product description below, which you can click to enlarge.


It's very rare that when you plan an event that you hire a professional photographer, other than for weddings and anniversaries. Even if people take pictures with their iPhones and such, that's normally right where the pictures will stay and no one else will get to see them. Our rentable cameras make it a much more cost effective way to capture the fun moments for your private or business party, the best part is that after the party everyone gets to see and share the photos.


Another added bonus with our Nikon CoolPix S30 Digital Cameras is that they make a nice little added decoration to your tables with their white shells and table cards with user instructions. Simply leave a camera on each table with a table tent instruction card letting them know how to use it.

The card reads something like this: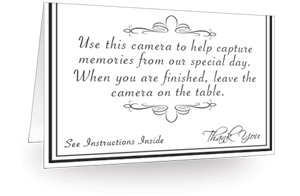 These cameras can also be used to record memories from the entire wedding process leading up to your big day. Take photos of everyone getting dressed and ready for the big day, the rooms before decorating, the decorating process, and most of all family and friends.

These are some of the most important and life changing days of you will ever have, so don't miss any of them.